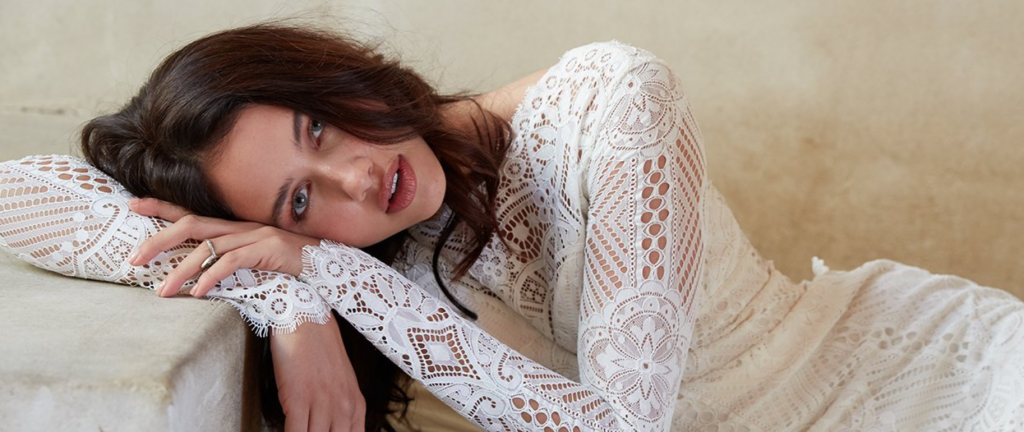 At Kelly's Closet, we love everything about Claire Pettibone. Claire and I have been in this thing together since the beginning – both hers and mine – over a decade ago.
My heart melted the first time I saw one of Claire's dresses.  It was love at first sight. Before long, I realized the love was reciprocal. She loved my shop as much as I loved her work.  Claire and her team affectionately call my little shop in Atlanta, GA "Claire Pettibone East." And with good reason: when I go to Bridal Market in New York every year, I want to buy every single dress.
The struggle is real.
That's as true today as it was back in 2003. Every. Single. Dress. They make me want to get married all over again.  Claire's dresses are more than mere garments. They're works of art. Each new design makes my heart skip a beat.
A few words that come to mind are elegant, timeless, and stunning. I connect to her artistry, her exquisite eye for texture, and her unique ability to use lace in a way that gives her formal gowns a totally sexy edge without going over-the-top. Her background in lingerie makes her stand out, but it's her well-rounded, sophisticated sensibility that brings it all together.
Her Brides Rock
Pettibone brides are creative souls.  They're fun, adventurous and love to laugh.  They want to be elegant, sexy, classic, and timeless – all qualities Claire and I value both in one another and in wedding gowns. We think that special day – and the dress a bride wears – should be as nuanced as possible. We believe when a woman finds her gown, it brings out every aspect of her personality: the lover, the friend, the beauty, the blushing girl, the badass professional – all it takes is one dress to make it happen.
Claire's dresses do that.
When a bride emerges from one of our dressing rooms wearing a Pettibone, everyone in the shop gasps.  They're really that beautiful.
Claire and I have become close friends over the years and I carry her line with joy and pride.  . Every year she outdoes herself, which drives me to keep pace with her.  Between us, we've been making brides happy for over a decade and I'm looking forward to doing the same for many years to come.  After all, she is my BBFF!
Come along to our Claire Pettibone trunk show on May 5-6th and meet the designer herself!  Contact us to book an appointment.
SaveSave
SaveSave