Post by Meredith, Head Closeter:
Get.  Excited.  I just got back from Bridal Market in NYC, and boy did I find some goodies for our brides.  Our designers took a few risks, but overall, the weekend was about timeless silhouettes and romantic, luxurious fabrics.
I was pretty much blown away by Jenny Packham, as usual.  No surprise there.  I can't even.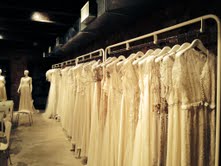 Claire Pettibone, a Closet fave, was amazing as always.  Check out her "Alchemy" trumpet adorned in gold metallic lace.  The back had me speechless.  SPEECHLESS.  And trust me, that's rare.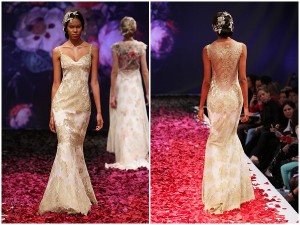 A big theme with lots of designers this season is a lace sleeve.  I'm talking uber delicate here.  Think Duchess Kate, but a little more fashion-forward (no offense, Your Highness). Temperley did it Flaw. Less. Ly.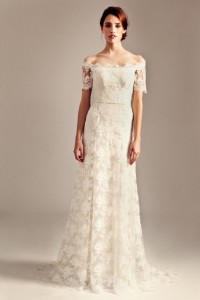 After seeing one bazillion gowns, two words stuck out in my head after my whirlwind weekend:  REEM ACRA.  I walked into the showroom and it was like someone hit me in the face with awesomeness.   I was as giddy and wide-eyed as a kid in a Toys R Us.  Unreal.
(and yes, the boobies will be hidden with lining)
All in all, it was a fantabulous Bridal Market!  SO fantabulous, in fact, that we decided to start our sample sale a month early to make room for all the new pretties coming in 2014.  Come see us soon!!